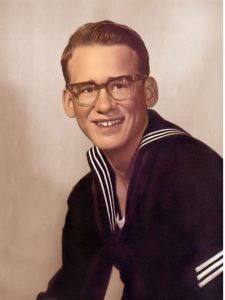 George Koneman, 71, of La Marque passed away on Monday, June 17, 2019 in Galveston, Texas.  He was born February 8, 1948 in Galveston, Texas to Norman and Norma Jean Koneman.
George lived his whole life in La Marque; he served in the US Navy and National Guard for over 18 years and was a Gulf War Veteran.
He is preceded in death by his parents and his brother Norman "Butch" Koneman III.  George is survived by his daughter Leslie Marie Koneman, son Jason W. Koneman, sister Suzanne Koneman and brother Kerry Koneman and wife Toni; three grandchildren: David Quintanilla, Jr., Kaleb Quintanilla and Nicholas Quintanilla and numerous nieces and nephews.
A visitation will be held on Saturday, June 22, 2019 from 1:00pm – 2:00pm at the Crowder Funeral Home in La Marque.  A Funeral Service will be at 2:00pm on Saturday, June 22, 2019 with Rev. Michael Selzer officiating. Interment of ashes at Houston National Cemetery will be at a later date.