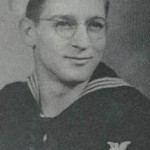 George Gregory Lambousy, 90, passed to his eternal life on February 6 at 5:15 in the morning with his family surrounding him and holding his hands, leaving a legacy of love that will forever be in our hearts. George was born at home on December 8, 1923, the first of five children, to Greek immigrant parents, Gregory and Athanasia Frangou Lambousy. Gregory and Athanasia came to America from Mytilene, Greece and settled in Jennings, La. where they owned and operated People's Cafe. George graduated salutatorian of his high school class in 1942. George also was the star quarterback of the Jennings Bulldogs and led his team to state in 1939. He attended Southwestern University in Lafayette on a football scholarship. His passion for football followed him throughout his life.
George proudly served in the in the U.S. Navy during WWII from 1943 to 1946 aboard the USS Proteus, a submarine tender, as a machinist mate 2nd class. He left Southwestern University the day after the bombing of Pearl Harbor to join the Navy to protect his country. On March 19, 1944, he embarked for the Pacific Theater where he served at Pearl Harbor, Midway, Guam and Japan. George was in the initial seizure and occupation force to sail into Tokyo Bay and was there for the signing of the Surrender. He was awarded the American Theater of Operations Ribbon, the Asiatic-Pacific Theater of Operations Ribbon and the Victory Medal.
After the war, George returned to Louisiana, where he graduated from Tulane University as a chemical engineer in 1950. He went to work for Standard of Indiana at Salt Creek Oil Field gas refinery in Midwest, Wyoming where he met Sandra Lee Sullivan. They were married in June of 1954 and began their family. Elizabeth Ann was born in April of 1955 in Casper, Wyoming and two weeks later, they were transferred with the company to Brownsville,TX. Stephanie Lee was born there in November 1956 and soon the family was transferred to Texas City where they settled in La Marque. Gregory was born in April of 1959 and George remained at Amoco Refinery until his retirement in 1991.
George was instrumental in creating several patents for Amoco including the lock washer for bubble cap assembly with his close friends and work associates Hugh Reaves and Ed Nelson. He cherished his friendships with many others including Vernon Wild. George supervised the machine shop at Amoco for many years and was highly respected and loved for his work ethic, fairness and ability to get the job done. He was on Amoco's volunteer fire fighting team and would respond anytime his alarm went off in the middle of the night. He helped Barbara Hughes run her booth at the Pump Symposium for many years. George spent many hours volunteering for Amocares and was on the vestry at St Michael's Episcopal Church. After his retirement from Amoco, he did consultant work and taught classes at College of the Mainland to young men and women wanting to go to work at the refineries. Family and work were George's main concerns and he supported all his children's athletic and academic endeavors.
George was preceded in death by his parents, Gregory and Athanasia Lambousy, one sister, Mary Gregory Lambousy Cotter and one niece, Maria Athanasia Cotter. He is survived by his loving wife, Sandra Lee, daughters, Elizabeth Ann (Scott Perthuis) and Stephanie Lee (Steve Cole), his son Gregory (Ann Lynn White) grandchildren Erin Elizabeth Enie, Stephan Gregory Cole, Allison McCartney Cole, Michael Ryan Cole, Travis Perthuis, Traven Perthuis, Jake McDonald, Justin White, great grandchildren Blaine Ray Davis, Arden Rose Kennedy, Jaxson Berlin Cole and his God Daughter, Glenda Gayle Frangou Williams. He is also survived by his sisters, Savilla Gregory Lambousy Mamoulides (Johnny Mamoulides) and Gloria Gregory Lambousy and one brother, Peter Gregory Lambousy (Katherine Tragelis Lambousy).
Visitation will be held at James Crowder Funeral Home in La Marque on Friday, February 14, 2014 from 5:00 to 8:00 p.m. Funeral Services will be held on Saturday, February 15, 2014 at St. Michael's Episcopal Church at 10:00 a.m. with Fr. Bob Flick, officiating. Burial will follow on Sunday, February 16, 2014 in Jennings, Louisiana at Greenwood Cemetery at 2:00 p.m. with military honors. He will be buried next to his father, mother and sister.
Pallbearers will be Gregory Lambousy, Steve Cole, Scott Perthuis, Johnny Mamoulides, Mitchell Mamoulides, Stephan Gregory Cole, Michael Cole, Gregory Cotter, Clement Patrick Cotter and Blaine Ray Davis. Honorary pallbearers will be Gregory Lambousy, Peter Lambousy, Robert Henderson, Travis Perthuis, Traven Perthuis and Johnny Lambousy.
The family would like to thank the A-Med Hospice team, especially, Stacy, May, Tony, Paula and Kristi as well as Dr. Nusrat Soleja and Dr. Sid Acharya for their wonderful care, concern and love. Special thanks to Cindy Chavana and Shannon Clifford for all their help over the years as well.
Donations may be made to St. Michael's Episcopal Church, American Heart Association or Alzheimer's Association.
Thank you Daddy, for your tireless and unconditional love for your family and the devotion and kindness you shared with all your friends and family. Words cannot express our love for you and the sadness in our hearts. You will always be remembered for your beautiful smile and clear blue eyes and how you shared this all so generously. You are forever in our hearts.