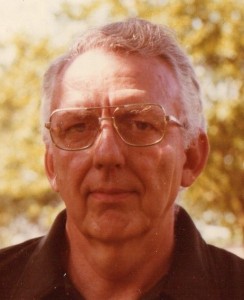 George Alwyn Muths, Jr. passed away peacefully on Saturday, May 16th, 2015 at the age of 89 years old.  George was born to George A. Muths, Sr. and Isabelle Gordon Brown Muths in Mobile, Alabama, on August 22, 1925.  Most precious to George was his family.  He was preceded in death by his wife of 60 years,   Edd Marie Adams Muths and their youngest son, Zane Hampton Muths, who passed away in 1963.  George is survived by his three sons, Craig Muths and wife Cindy, Brian Muths, Dean Muths and wife Liz.   George also leaves behind 4 grandchildren, Scott Harvill and wife Angela, Megan Chichester and husband Tom, Sarah Muths Lee and husband Chris and Ben Muths.  George also left six great grandchildren Kaitlin, Melynn, Michael, Alayna, Rebecca, Stephanie and Charlotte.
When his nation called, George answered by joining the United State Marine Corps and serving during World War II in the Pacific, where he saw extended action on Okinawa and Guadalcanal.  At the end of the war, George returned to college at Louisiana State University where he met his sweet bride-to-be and received his degree in electrical engineering.  Upon graduation, he was hired by IBM and spent his entire 40 year career with the company before retiring in Clear Lake.  There was no machine or appliance he couldn't repair.  There was no emotional life issue he couldn't solve.
Americans who were born and lived in this era are referred to as the "Greatest Generation" because they fought not for fame or glory , but because it was "the right thing to do".  George was without a doubt a contributor to what makes his generation so great.  He knew everyone at the local bank, the grocery store, the restaurants and the drug stores by first name.  He would casually stop and talk with strangers wherever he went and he never had a cross word to say about anyone.  He was kind, gracious and generous. His family and friends will dearly miss his welcoming hugs and the way he would stand on the driveway and wave goodbye each time you drove away.  A better husband, father or truer friend there never was.
In lieu of customary remembrances and for those so desiring, we ask that you make a donation to a veteran's association of your choice.  A viewing service will be held at Crowder Funeral Home in Clear Lake on Thursday, May 21, at 6:00 PM with a religious service beginning at 7:00 PM.  His burial will be held on Friday morning at the Houston National Cemetery.