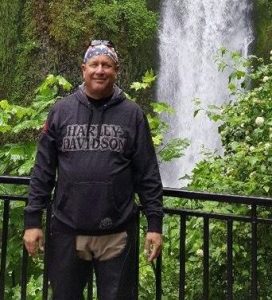 In loving memory of Gene Stanley Earnest, a man whose life was filled with extraordinary moments and cherished memories.
Gene passed peacefully at home on May 31, 2023, surrounded by his wife, Amy, and sons Gene Vernon, Grant, and Guy. He was blessed with two daughters-in-law, Emily and Denise, and six grandchildren: Taylor, Janie, Weston, Lexy, Bethany, and Kane. He is also survived by his mother Pennie McMahon of Lakeside, CA, and brothers Jason Earnest of Lakeside, CA, and Robert Henley of Troy, MI.
Growing up in the San Diego, CA area, Gene and Amy met through their community activities, fell in love, and married 42 years ago. Together, they embraced change and embarked on a grand adventure, leaving behind the golden coast of California for the vast expanse of Texas. With courage and determination, they started anew, building a life filled with joy and new experiences.
Gene worked tirelessly for over 40 years with NRG as an Operator to provide all the best in life for his family. He was not just a husband, father, and grandfather; he was the very embodiment of unwavering support. His devotion to his loved ones knew no bounds, and his gentle but firm demeanor was often interrupted by one of his goofy quirks. His children and grandchildren will forever cherish the memories they created together, as they carry his legacy of love and kindness into the future.
Gene began his commitment to helping others during his Eagle Scout journey, then becoming a DeMolay member, furthering his passion for community service. Through his selflessness, he became an inspiration to others, a guiding light that touched countless lives. The community of Pasadena, TX was blessed to have Gene as a tireless volunteer over the span of the past 40 years. Whether it was lending a helping hand with the City of Pasadena Verne Cox Center, or serving as a Scout Leader for his sons' troop, his dedication to making a difference was immeasurable.
Adventure coursed through Gene's veins, eventually leading him on exhilarating motorcycle journeys that took him to the farthest corners of the country. The open road was his canvas, and he painted it with the vibrant colors of freedom and exploration. Through these travels, he embraced the diversity of landscapes and cultures, finding inspiration in every mile. What started as a hobby quickly grew into so much more. The San Jacinto Harley Owners Group Chapter blessed Gene and Amy with more brothers and sisters than one could hope for, many of whom were with him to the very end.
Gene considered himself an above average golfer, and his passion for the sport brought joy to countless rounds played with friends and family. But Gene's talents extended far beyond the golf course. With a skilled hand and a creative mind, he mastered the art of carpentry, creating beautiful pieces and gifts for others that reflected his attention to detail and dedication to his craft.
Gene's zest for life extended beyond his passions and community service. When it came to entertainment, he had an eclectic taste that knew no bounds. From the iconic films Free Willy and National Treasure to the infectious beats of Mambo Number 5, his entertainment preferences were as diverse as the adventures he undertook.
As we bid farewell to Gene Stanley Earnest, let us remember him not only for his accomplishments during his 63 years of life, but also for the indomitable spirit that touched so many lives. May his memory inspire us to live each day to the fullest and to cherish the moments we share with our loved ones.
Farewell, Gene, may your spirit forever roam the open road, finding solace in the great unknown.
Gene said he would not be attending a funeral, so why waste the money. Details for a celebration of life will be shared once available. In lieu of flowers, Gene would have appreciated a gift in his memory to the Verne Cox Center in Pasadena, TX.