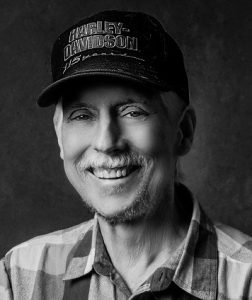 Gary Wayne Bell, 72, passed from this life on November 26, 2022 in Round Rock, Texas. He was born April 22, 1950 in La Marque, Texas to parents, Ronald Edward and Ida Frances Bell both of whom have preceded him in death. Gary was a former resident of Santa Fe, Texas.
Gary graduated from La Marque High School in 1968. He attended University of Texas. He worked as a Master Electrician and was a proud member of the IBEW. He later studied process control and worked at many of the plants in Texas City and the surrounding area, including Sterling Chemicals and British Petroleum.
Gary was a talented musician, playing keyboards in various bands for over twenty years. He was a die-hard Dallas Cowboys fan.  He enjoyed watching old movies (especially Westerns) and listening to his favorite musicians. Gary lived a full life and spent much of his later years riding his Harley Davidson across the eastern United States and also through the Texas Hill Country with friends.
He leaves behind to cherish his memory, his son, Cody Bell and wife, Ablaza, two grandchildren, Duke and Jade Bell, and a 3rd grandchild due in March 2023; sisters, Debbie Bell Smith and Patty Bell Carter, and husband, Garry Carter; numerous cousins, nieces and nephews.
Visitation will be held at 9:15 a.m. followed by a celebration of Gary's life held at 10:00 a.m. on Friday, December 2, at Crowder Funeral Home Chapel in Dickinson, Texas. Interment will follow at Hayes Grace Memorial Park Cemetery in Hitchcock, Texas.
In lieu of flowers, donations can be made to The Alzheimer's Assocation at alz.org or by calling 800-272-3900. A donation to a  charity of your choice is also appreciated.