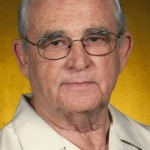 Gary M. Ewing, 77, resident of La Marque, Texas passed away August 19, 2014 in Webster, Texas. He was born July 1, 1937 in Mobile, Alabama and moved to Galveston, Texas in 1939. He moved to La Marque, Texas along with his family in 1955. He retired from Houston Distributing Co., located in Houston, Texas after 35 years of service. During his later years with Houston Distributing Co. he served as Captain for the Eagle One off-shore fishing cruiser. Before a long illness in 2003 he enjoyed many years of golf, classic sport cars, off-shore fishing /boating and attending gun trade shows. In recent years, he loved spending time with his wife and family, including his children and grandchildren.
He was preceded in death by his parents, Milton and Ruth Ewing and grandson, Dustin Ewing.
He is survived by his wife of 60 years, Donna Ewing; son Keith Ewing; daughter Sheila Ewing; son Daryl Ewing and partner Doug; grandchildren, Tahnee Hernandez and husband Todd, Travis Ewing and wife Katie, Danielle Ewing; and seven great grandchildren, Jordan, Jaron, Tristany, Austin, Jada, Jaselyn & Jett.
Visitation will be on Friday, August 22, 2014 from 5:00pm – 7:00pm at the James Crowder Funeral Home in La Marque. Funeral service will be at 10:00am on Saturday, August 23, 2014 at the funeral home with Rev. Matthew Brackman officiating. Burial will follow at Forest Park East Cemetery in Webster, Texas.
In lieu of flowers, contributions can be made to the American Cancer Society or the Animal Humane Society.