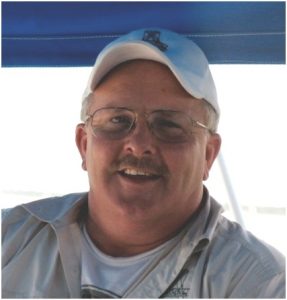 Gary Michael Parker Sr., 63, passed away peacefully at home October 16, 2016 in Seabrook Texas.    He was born September 3, 1953 in Houston Texas.  He was united in marriage with Theresa (Terri) Kasmiersky on January 13, 1995.  He was the loving father of three sons, Gary Michael Jr., Huling Houston V and Conrad Lee.
Gary will be remembered for his sense of humor and heavenly outlook on life.
He was preceded in death by his father Huling Houston, Sr. He is survived by mother Catherine Louise Malitz Parker; brother Huling Houston, Jr. (Skip) and wife Paula; sister Karen Louise Parker; many nieces and nephews.
A public visitation will be held from 5-7pm Monday, October 24, with a rosary at 7pm and a time for sharing memories at 8pm at St Paul the Apostle Catholic Church, 18223 Point Lookout Dr, Nassau Bay, 77058.
A viewing will be at 10am on Tuesday with the Mass following at 11am.   Gary will be laid to rest in the Forest Park East Cemetery in Webster, Texas.
In lieu of flowers you may make a contribution to St. Paul the Apostle Catholic Church to provide altar flowers throughout the year in loving memory of Gary Parker.