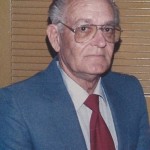 G.A. "Arlan" Bills, 82 of La Marque passed away Thursday, August 14, 2014 in Dickinson, Texas. He was born April 26, 1932 in Wichita County, Texas to Lester and Elizabeth Bills.
Arlan was a resident of La Marque for 59 years, a charter member of Mainland Elks 2141, and he was chief operator at Union Carbide.
He is preceded in death by his parents, his wife LaWren Bills, brothers Lester Bills Jr., and Allen Bills.
He is survived by his daughter and son-in-law; Deborah Ann Vail and Ronny of Santa Fe, sons and daughter-in-law Gilbert "Gil" Arlan Bills Jr., and Debbie of La Marque, and Brad Bills (Marty) of La Marque, brother Terry Bills of Dallas; five grandchildren Craig Vail, Jarrod and Allison Vail, Kimberly and Grady Mack, Jennifer and Mike Wade and Arlan Bills; three great grandchildren Trace Vail, Katie Mack and Wyatt Vail.
A graveside service will be at Hayes Grace Memorial Park on Saturday, August 16, 2014 at 11:00am with Pastor Richard Baurs officiating.
The family would like to especially thank Aida Tinney and staff at Meadow Glenn Personal Care.