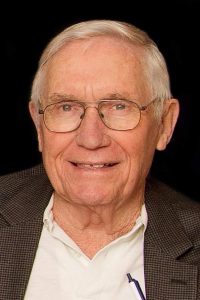 Fred Marion Adair, Jr., 94 of Texas City passed away on Tuesday, April 5, 2022 in Texas City.  He was born on March 11, 1928 to Fred and Maude Adair in Greenville, Texas.
Fred was a resident of Texas City for over 55 years, formerly from Denison, Texas.  He worked for Monsanto for 37 years, a member of First Christian Church Texas City and was very involved with Boy Scouts for 30 years obtaining the Silver Beaver Award.  Fred and his wife, Anne, were the owners for 25 years of Adair's Antiques in Texas City.
He is preceded in death by his parents and his wife Anne Adair.  Fred is survived by daughter Leslie Henderson (Wayne), sons, Steve Adair (Barbara) and Kirk David Adair, eleven grandchildren, twenty great-grandchildren and 1 great-great grandchild and one on the way.
A memorial service will be held at 3:00pm on Wednesday, April 13, 2022 at the James Crowder Funeral Home, La Marque.