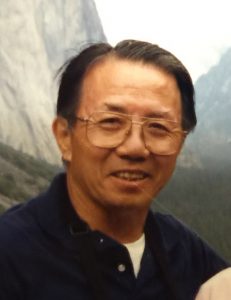 The following was written by Franky's daughter, Yoon:  
  "I wanted to take this moment to let you all know that my Dad passed away Saturday, March 18th. He was without pain, surrounded by family. My Dad was always guided by faith. Never complaining about the small stuff, but always praying for the good. He was the embodiment of what it means to be an immigrant in search of the American dream. He left his family in South Korea in the late sixties/early seventies with only a few hundred dollars to his name to establish a home here in the U.S. so that my mom, my sister, and I could have a better life. It wasn't until several years later that we were able to finally come and see our Dad in California. But it was never easy for him. He escaped from North Korea before the enemy soldiers were starting to invade and they established the 38th parallel. He left with only what he could carry in his hands making his way south entirely by foot. No one would ever have imagined that almost 50 years later he would see his daughters finish post graduate school.  He is blessed with five beautiful grandchildren.  His oldest, Jennifer, is completing her PhD.  His second grandchild, Derek, entered Heaven at the age of eight years. He is surely overjoyed because he is with his Grandpa once again. Next is Kevin, who is finishing up his bachelor's degree with aspirations of becoming an engineer.  Ashley, a high school sophomore will be taking part in the Harvard Summer Program later this year. Grandpa always considered Eliza who is starting middle school next year as being his protégé because of her natural artistic talent.  Education was always the number one priority for my Dad.  He often told me that if my teachers taught me one or two things, I should study harder to learn 4 or 5 more.
I am writing to you to let you know that on Sunday, March 26th, we will hold a memorial service to honor his life and it would do us a great honor if you could come and be with us. Most of all, it would mean so much to my mom, Theresa. It is especially significant to us in that Monday, the 27th, would be our son Derek's 22nd birthday. We are comforted in knowing that Grandpa is now with Derek in Heaven.
If you can, come join us this Sunday, March 26th, at the NASA Korean Presbyterian Church, 215 Newport Avenue in League City, just off of 518. There will be a reception after service. Time is 4 pm."
Franky Shin is survived by his loving family: wife of 54 years,Theresa Shin; two daughters, Yoon Hoffman of Friendswood, TX and Candice Matsui of Torrance, CA; son-in-laws, Tom Hoffman and Jim Matsui; awesome grandchildren, Ashley & Eliza Hoffman and Jennifer & Kevin Matsui.  He was predeceased by his beloved grandson, Derek Hoffman.