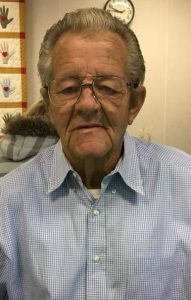 Franklin Allen McBlain, 72, of Pearland, TX passed away November 23, 2017 in Houston, TX.  Frank was born September 15, 1945 to Franklin and Jennie McBlain. He was a member of Pearland First United Methodist Church.  He served his country for over 20 years in the Air Force and an additional 19 years of Civil Service. After his retirement, he enjoyed his time as a full time Grandpa.  Family and helping others were his top priorities throughout his life.  He enjoyed tinkering on anything mechanical, working on the farm, spending quality time with family, and doing projects around the house. He loved traveling to visit family whenever he could.  Frank has lived in Pearland for the past two years and is formerly of Altus, OK.  He will be missed dearly.
Preceded in death by his parents, Franklin and Jennie McBlain; son, Raymond McBlain and sister, Dottie Jenkins, Frank is survived by his wife of forty-three years, Ling Lih McBlain; daughters: Beth Eberhardt , Wendy McBlain, and Diana McBlain; sons: Franklin McBlain, wife Tracy and Shawn McBlain, wife Marie; sister Jean McBlain; nine grandchildren and eight great grandchildren; numerous other relatives and friends.
Memorial service will be held 2:00 p.m. Saturday, December 2, 2017, Crowder Funeral Home 2422 Broadway Pearland, TX 77581.