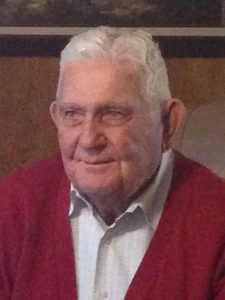 Frank John Cortese, 94, resident of Santa Fe, Texas passed from this life, Sunday July 16, 2017 at his home. He was born February 4, 1923 to proud parents, Angelo and Domenica Cortese.
He was a longtime member of Queen of Angels Catholic Church. Frank spent his life in agriculture as a farmer in the Santa Fe area.
He was preceded in death by his parents, and his sister.
He leaves to cherish his memory, his God daughter, Christina Blair; his God son, John Saracco, Jr.; eight cousins, Georgia Meyers, Rosemary Giamfortone, Dorothy Nelson, Oliver Thom, Jr., John Thom, Anita Taylor, Loretta Perez, Louis Menotti, Jr., Marie Bolton, and numerous other second and third cousins.
A visitation will be held in his honor, Wednesday July 19, 2017 from 6:00 – 8:00pm with a Rosary at 7:00 pm in the Crowder Funeral Home Chapel in Dickinson, Texas. A Funeral Mass will be held on Thursday July 20, 2017 at 10:00am at Queen of Angels Church in Dickinson, Texas, with interment following at Mt. Olivet Catholic Cemetery in Dickinson, Texas.
Honored to serve as pall bearers are Oliver Thom, John Thom, W.H. (B.B.) Nelson, Anthony Saracco, George Saracco, and Mike Saracco . Serving as alternate pall bearers are Matthew Blair and Matthew Huvar.