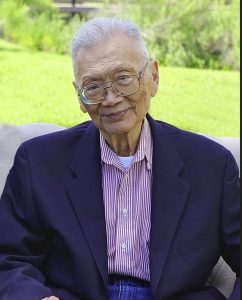 Frank Fah Sen Wang, 96, of Nassau Bay, TX, peacefully passed away on October 15th, 2022 surrounded by loved ones, after a long and full life.
Frank was born on June 13th, 1926 to C.F. Wang and Aimei Giang in the bustling city of Paris, France.
After Frank graduated from The University of Alabama with a Bachelors in Engineering, he pursued a Masters degree in Engineering at Purdue University.
Frank worked most of his career in the Oil & Gas Industry where he met many of his life-long friends. He loved sharing stories of his time in the field and the many countries abroad where he lived and worked.
Frank was predeceased by both his parents, C.F. Wang & Aimei Giang, as well as his younger brother C.C. Wang. He is survived by his wife Hungte Wang and their children Frances & Patrick Hozdic, Gloria & Ed Summey, Catherine & Bret Sadler, and Andrew & Cindi Wang; 2 children from his first wife Alvin & Lorrie Wang and Janice Wang; as well as 8 grandchildren!
A private service will be held at Crowder Funeral Home, 111 East Medical Center Blvd., Webster, TX 77598 on October 27th, 2022 at 2:00pm.
In lieu of flowers, please consider a donation to St. Jude Children's Hospital.