Frank Daniel Farmilette, Jr.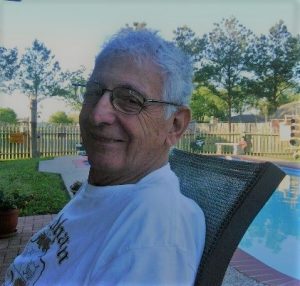 Frank Daniel Farmilette Jr., 78, of League City TX passed away, Sunday Jan. 8, 2017 after a 3-year battle with Multiple System Atrophy. A celebration of life service will be held at 11:00 am, Saturday Jan. 14, 2017 at Crowder Funeral Home in Dickinson, Father Larry Wilson will be officiating. Burial will follow at Mt. Olivet Catholic Cemetery in Dickinson. Memorials may be made to the American Diabetes Association (donations.diabetes.org), or the Multiple System Atrophy Coalition (www.MultipleSystemAtrophy.org).
Frank was born February 10, 1938 in Queens NY to Frank and Edna Farmilette. He graduated from Pascack Valley High School, NJ in 1956.
On Oct. 26, 1957, he married the former Irene Marie Mason in Hillsdale NJ. Frank and Irene moved to Texas with their five children in 1976. Frank was employed in the construction industry and retired as a job superintendent in 2000. He enjoyed traveling in the RV with his wife. Together, they visited all but 4 states until he became ill a couple of years ago. He loved working in his work shop building small furniture and bird houses and riding his beloved horse, Moe. He also enjoyed reading and spending time with his children, grandchildren and great-grandchildren. He was always willing to help a family member or neighbor in need.
Frank is survived by his wife of 59 years, Irene Farmilette, two daughters, Diane Mackey (husband Michael) and Doreen Bridges (husband Greg), two sons, Frank Farmilette III (wife Stacy) and Marc Farmilette (wife Desiree); nine grandchildren, eight great-grandchildren, his brothers Michael Farmilette (wife Janet), Marc Farmilette (and Lynn), sister Rosalie O'Neal (husband Jim) He was preceded in death by his parents, Frank and Edna and by his daughter Debbi Farmilette.