Francis Christi "Chris" Briza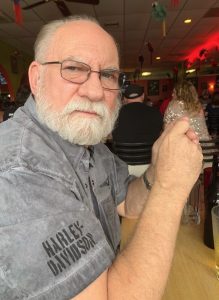 Francis Christi "Chris" Briza, 71 years of age, passed away peacefully at home on June 7th, 2022 surrounded by his family. Chris was born in Flushing, Queens, New York City on October 29, 1950.
He attended St. Mary Star of the Sea elementary school in Far Rockaway, NYC, Christ the King HS in Middle Village, NYC and Manhattan Community College.
He began his career as a steamfitter in NYC in 1970 and in 1975 worked as a Conductor on the NY subway. In 1976 he moved to Houston, Texas with his wife and 2 young children where he continued his career as a Pipefitter working out 211 Pipefitter's union. He went to work for Shell Oil Co. in Deer Park in 1977 as a pipefitter and, eventually, a pressure equipment inspector for the next 32 years. During his time at Shell he was a Hazmat Firefighter which he thoroughly enjoyed. He loved talking about his training at A&M and dealing with the incidents to which he responded.
He retired in 2009 and spent the next 13 years traveling around with his wife, Karen. He especially enjoyed the cruise life going on many cruises out of Galveston, Miami, Seattle, and Vancouver and around the British Isles. He also enjoyed many trips to NYC to take in the sights and the shows.
Chris was also very proud of his time in the Naval Reserve as a Seabee during the 80s. His Seabee duties took him to California, Nevada and Spain.
He was a long time member of the Knights of Columbus becoming a Squire at age 18 and eventually a 4th degree member for 49 years. He loved the Knights and the good works that they do. He loved participating in the breakfasts and air shows when he was in better health as well as the Christmas parties.
Chris is survived by his wife of over 50 years, Karen, daughters June Marie and Katherine, sons Christopher and Thomas, 7 grandchildren, 3 great grandchildren, sisters Kathleen and Ann Marie, brother Peter and numerous nieces, nephews and cousins.
He is preceded in death by his parents Thomas and Kathleen Briza, brother Thomas, son John, and daughter Mary.
Visitation will be held at Crowder Funeral Home Webster, Texas on Monday, June 13th from 6-8 p.m. with the Rosary at 7p.m. Funeral service will be Tuesday, June 14th at 11  a.m. at St. Bernadette Catholic Church Clear Lake, Texas. Burial is at Mount Olivet Catholic Cemetery.