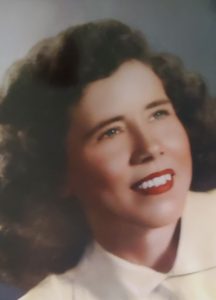 Frances Bernice Brown was born on January 11, 1926; her soul peacefully took flight on the morning of January 12, 2022. She made it to her 96th birthday surrounded by her loving daughter, grandchildren, great grandchildren, and great-great grandchildren.
She is preceded in death by her husband Joe Fernando Brown; stepson Timothy Brown; son John Bowen; and son Joseph William Brown.
She is survived by daughter Kathy Hall; stepdaughter Judith Folds; stepdaughter Susan Packer; and stepdaughter Bonnie Pitts.
The ceremony will be at James Crowder Funeral Home, 401 Texas Ave., in La Marque, Texas,  Friday, January 14, 2022, Visitation at 6:00 p.m., and Funeral Service at 7:00 p.m. with a Reception to follow.
The graveside service and interment will be at Oak Hill Cemetery in Smithville, Texas on Saturday, January 15, 2022 at 2:00 p.m. where her body will be laid to rest alongside her husband and two sons. Arrangements are in the care of the James Crowder Funeral Home, La Marque.