Florence McKinney Sloan Sell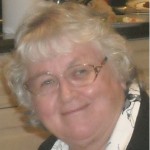 Florence McKinney Sloan Sell passed away on October 8, 2014 with her family by her side. Born on January 4, 1935 in Houston, Texas to Clarence Herbert Sloan and Annie May Wood Sloan, Florence spent her life taking care of her family and others who needed her. She was preceded in death by her parents and her husband Ronald Dean Sell.
Florence is survived by her sister, Ann Sloan Jones; daughters, Charlotte Schwarzlose and husband Bob, Alice Sell, and Laura Wilson; son, Rick Sell and wife Gena; grandchildren, John Schwarzlose and wife Diana, Ashley Freeman, Charles Schwarzlose, and Ron Sell; and great-grandchildren Hadleigh, Grant and McKinney Freeman and Emily Schwarzlose; as well as nieces, nephews, and numerous friends.
Florence was graduated from Milby High School as Valedictorian in 1953. She was graduated from Rice University earning a BA in English. After a joyful stint as a stay-at-home Mom, she worked for 24 years as an editor for Omniplan and later Hernandez Engineering, primarily supporting NASA. She had a passion for her family, art, gardening, reading, and genealogy. She loved serving the Lord and was an integral force at Webster Presbyterian Church.
Florence's family will greet family and friends on October 13, 2014 from 12 noon to 1 o'clock in the afternoon, followed by a memorial service celebrating Florence's life at Webster Presbyterian, 201 West NASA Road 1, Webster, Texas 77598, (281) 332-1251. Those wishing to make a memorial donation in Florence's memory, in lieu of flowers, may do so to either Webster Presbyterian or The Breast Cancer Society.