Florence Marie (Tobleman) Giusti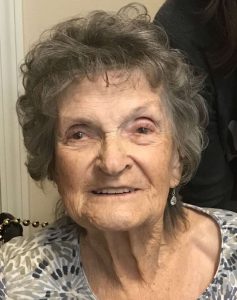 Florence Marie (Tobleman) Giusti passed away peacefully at the age of 94 on Tuesday, July 23, 2019 in Hutto, Texas.  She was born May 19, 1925 to Norman and Edith (Gruetzmacher) Tobleman in Galveston, Texas and was one of seven children.  Florence married Kenneth Harlan Giusti Sr., July 12, 1946.
Anyone who knew Flo knows how she loved to sing. She loved her church choir at Trinity Lutheran Church and was able to travel to Carnegie Hall and Vienna Austria to sing with the Bay Area Chorus group. Heaven is alive with music today as Florence and her musical families are rejoicing her homecoming. She was a kind and loving soul who never met a stranger.
Her sisters Norma, Dorothy, Virginia and Betty and brothers Norman Jr and William all preceded her in death.
She is survived by sons: Kenneth Giusti Jr and Larry Giusti (Christina) who have three children: Michele Linnertz (Jeff), Jennifer Alvarez (Abel) and James Ellis Jr (Carolyn Ha). Larry and Christina have 6 grandchildren; Florence has one daughter Kathy (Giusti) Svoboda (Jeff). Granddaughter Sarah (Svoboda) Johnson (Austin), and Grandson Harlan Svoboda and partner Ricky Reyna.  Florence has her first great-grandchild on the way.  She is also survived by several nieces, nephews, childhood friends and new friends alike.
A visitation will be on Thursday, July 25, 2019 from 6:30pm – 8:00pm at the James Crowder Funeral Home in La Marque. A Graveside Service will be held at 10:00 am on Friday July 26, 2019 at Forest Park East Cemetery in Webster, Texas.