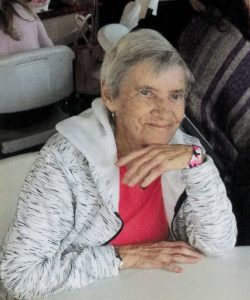 Florence Marie Dinhobl, 84, a longtime resident of Hitchcock, TX, passed away on February 13, 2023. Florence was born in Galveston, TX, on October 14, 1938 to Florence Cordray Beaulieu and John Richard Beaulieu. She grew up in Galveston and graduated from Ball High School in 1956. Florence earned her Bachelor of Science degree from Sam Houston State Teachers College in 1960. She enjoyed a rewarding career as a teacher and retired from Hitchcock ISD after teaching 1st grade for many years.
Florence leaves behind her husband of 61 years, George Dinhobl, and their 5 children: Lori McLaren (and husband Shawn), Kathleen Langford (and husband John) Richard Dinhobl (and wife Ruth), Matthew Dinhobl, and Stephen Dinhobl (and wife Vilma), grandchildren: Molly McLaren, David Langford (and wife Rebekah), Alice Langford, Andrew Dinhobl, Mark Dinhobl, Ashley Dinhobl, and Kailey Dinhobl. She is also survived by her sisters, Margaret Novosad and Phyllis Robinson, and her brother, Richard Beaulieu (and wife Sylvia), as well as numerous nieces, nephews, and dear friends.
A memorial visitation will be held on Friday, February 24, 2023 from 5:00 – 8:00 p.m. at Crowder Funeral Home, 401 Texas Ave, La Marque, Texas.