Flora Beatrice "Bea" Weeks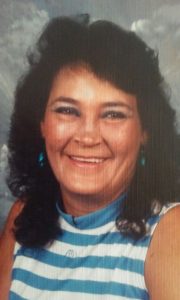 Flora Beatrice "Bea" Weeks (Carpenter) died in her home on March 24, 2018 in Dickinson, Texas due to natural causes. She was 72.
Mrs. Weeks was born on August 23, 1945 in Clarksdale, MS to her parents, Martin and Nellie Carpenter. She married John Roy Hamilton in 1962 and later married Alfred Adrian Weeks in 1975.
She enjoyed gardening, cooking, and her grandchildren.
Mrs. Weeks is survived by her sons Phillip Hamilton and wife Mary; Randy Hamilton and wife Mary Ann; Adrian Michael Weeks; and four daughters Trina Roberts and husband Tim; Angela Hamilton and her partner Keith; Andrea Michelle Weeks, Christy Hicks; brother Bill Carpenter, sister Jane Walker, 17 grandchildren and many great grandchildren, nieces and nephews. She is preceded in death by her husband, Alfred Adrian; son Trampus Weeks, brother Milton, and sisters Peggy, Juanita and Hazel.
Visitation will be held at Crowder Funeral Home, 851 FM 517 W., Dickinson, TX 77539 on March 28th from 6 to 8 pm with Bill Carpenter officiating. Services will be held at Crowder Funeral Home on March 29th at 10 am. Interment will follow at Dickinson Cemetery in Dickinson, TX.
The family wishes to thank her nurse, Rochelle Westrup for all of her kindness, care and support.