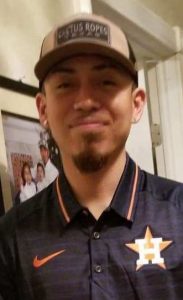 Fernando Ivan Villanueva, 26, nineteen-year resident of Bacliff, Texas formerly of Dickinson, Texas passed away November 14, 2020. He was born September 15, 1994 in McAllen, Texas to parents Paulino Villanueva and Josefina Padilla.
He is survived by his parents Josefina Padilla and Paulino Villanueva; grandparents, Irma Garza, and Jose Padilla; Antonio Villanueva and Genoveva Vasquez; daughter, Isabella Villanueva; son, Fabian Villanueva; sisters, Erica Villanueva, Jaqueline Villanueva, and Guadalupe Villanueva; and brothers, Anthony Villanueva, Diego Villanueva, and Jacob Villanueva.
Visitation will be held from 3:00 p.m.– 8:00 p.m. November 19, 2020 at Crowder Funeral Home in Dickinson, Texas. Services will be held at 9:30 a.m. on Friday November 20, 2020 at Crowder in Dickinson with interment following at Mt. Olivet Cemetery in Dickinson, Texas.