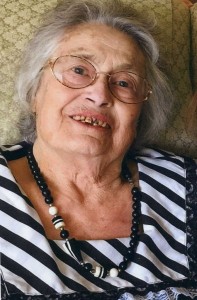 Fern Catherine Caudle passed away on February 18, 2015. Fern was born in Maramec, Oklahoma on January 5, 1926 and lived in the Texas City/Santa Fe area for the last 57 years. She was preceded in death by her husband, Bernard Cecil Caudle; her daughters Patsy Lou Souleret, Sandra Kay Booth and Catherine Sue Caudle; and her son Ronald Dean Caudle. Fern is survived by her sons, Cecil Caudle and his wife Star, Jerry Caudle and his wife Shirley; and her daughters Barbara Manis and her husband Sonny, Bonnie Womack and Teresa Person and her husband Sonne. Fern was blessed to have 32 grandchildren, 57 great grandchildren and 33 great great grandchildren.
We will miss her wonderful smile and contagious laugh.
A visitation in Ferns honor will be held Friday, February 20, 2015 from 5:00 to 7:00 pm, Crowder Funeral Home Chapel, Dickinson, Texas with funeral services Saturday, February 21, 2015, 10:00 am, Crowder Funeral Home, Dickinson, Texas.
Interment will be in Maramec, Oklahoma.