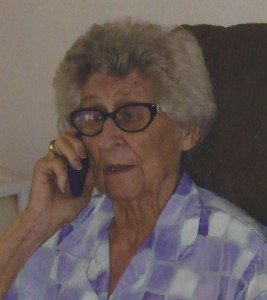 Eva Andersson would like you to celebrate her family reunion. Eva has finally gotten her wish and her prayers have been answered. She passed away peacefully in her sleep on Thursday, September 23, 2015, at her apartment in Sidney, Ohio. She wants everyone to know that God (finally) answered her prayer and her daughter followed her wishes.
Eva was a RN at Danforth Hospital for over 30 years, a member of La Marque Presbyterian Church and the TC-LM Chamber of Commerce.
Eva wants these services at Crowder Funeral Home as a celebration of her earthly life and rejoicing for her future. She's wearing purple because she likes it and thinks it's a fun color. Please celebrate with her on Thursday, October 1, 2015 from 6:00pm – 8:00pm at the James Crowder Funeral Home in La Marque. Funeral Service will be at 10:00am on Friday, October 2, 2015 at James Crowder Funeral Home with Rev. Jack Shelton officiating. Burial will follow at Grace Memorial Park in Hitchcock with Rev. Richard Kleiman officiating.
She is preceded in death by her parents Benjamin Mescher and Mary Bunger; her daughter, Sandra Ann Emerson, and her son, Mark Alan Andersson.
She is survived by her daughter, Penny Lea Andersson Fairchild and husband Garry of Fort Lorraine, Ohio and son-in-law, James O. "Joe" Emerson; and his three daughters; Nicole Edmond, Jamie McDonald, Kathryn Guthrie; as well as Gary Fairchild, Jeannie Fairchild Swob, Elizabeth Fairchild Schaffner and Gordon Fairchild.
Pallbearers will be Elgin Vyvial, Patrick Minor, Lynn Langlinais, James Emerson, Garry Fairchild, and Gary L. Fairchild. Eva didn't care for flowers while she was alive and prefers memorial donations instead to one of the following:
Senior Independence (Miami Valley) Office, 6520 Poe Avenue, Dayton, Ohio 45414. The Hospice staff provided Eva and her daughter comfort and empathy in a most respectful manner. Eva was treated with extreme gentleness and lovingly by the entire staff.
Dorothy Love Retirement Community, 3003 West Cisco Road, Sidney, Ohio 45365. As part of the Ohio Presbyterian Retirement Services which is a nonprofit organization, Eva was accepted for life-time residency. She would have had a home until she dies – regardless of her financial situation. The staff at Dorothy Love treated her as family just as many of you did for her for many years.
Shriners Burn Hospital, 815 Market St, Galveston, TX 77550; for the care Eva's son, Mark received.