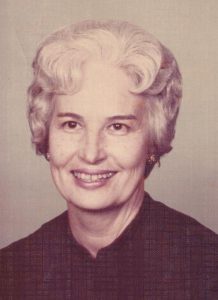 Eula Mae Duroux, 98 yrs old, of La Marque, Texas, was called home by her Lord on June 29, 2018 in Lincoln Park, New Jersey.  She was born in Walnut Grove, Mississippi on May 24, 1920 to John and Jennie Brantley.  Eula Mae and her beloved husband Richard sold their home in La Marque and moved to New Jersey to live with their daughter, Patricia, and her husband, Wayne in January of 2016.
Eula Mae was a resident of La Marque since 1958.  She was a Registered Nurse all of her adult life.  While in La Marque, she worked as an RN for Dr. Charles Ford in Hitchcock, Texas.  She then worked as a Supervisor RN at Galveston County Memorial Hospital.
She was a member of Highlands Baptist Church.
Eula Mae was preceded in death by her parents, her first husband, Walter R. Horner, her daughter, Barbara Elaine Haladay, nine brothers, J.B., Cecil, Abner, Murphy, Louis, Lamar, Billie, Roy and Dewitte and three sisters Mable, Janice and Geniveve.
She is survived by her beloved husband of 51 years, Richard Alexander Duroux, daughter Patricia Ann Odenbrett, son-in-law Wayne Odenbrett, granddaughter , Lorie Lynn Tekorius and husband Dan Tekorius, son-in-law, David Haladay, granddaughter, Tammy Samford and husband Mark Samford, great-grandchildren, Samantha Samford, Alyssa Samford and Weldon Samford.
She is also survived by her brother William Brantley and his wife Sarah.   There are numerous nieces, nephews and their children and grandchildren…..too many to name.
The Funeral will be held on Tuesday, July 24, 2018 at The Crowder Funeral Home in La Marque, Texas.  Visitation will be from 10:00 AM until 11:00 AM at the funeral home.  The Service will be at 11:00 AM with Dr. David Smith officiating.  Interment will follow at Galveston Memorial Park Cemetery in Hitchcock, Texas.
In lieu of flowers, please give donations to your local Food Pantry.