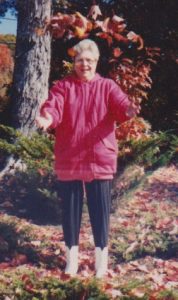 Esther R. Galbreath, 89, passed away on March 6th, 2022 in Webster, Texas. She was born on February 19th, 1933 in Wilkes Barre, Pennsylvania to Frederick Glasser and Elizabeth Wick Glasser. Esther is survived by her: daughters, Maria Kane, Laurie Galbreath and Christina Edlin; son, Buck Galbreath; brother, Bernard Glasser; 9 grandchildren; 12 great grandchildren; and numerous family members and friends.
She had a passion for animals and loved to create stained glass and crochet.
A Memorial Service will be held on Saturday, March 26, 2022 at 2:00 pm at House of Prayer Lutheran Church, 14045 Space Center Blvd. Houston, Texas 77062 with a reception following. In lieu of flowers those wishing to make a memorial donation in Esther's memory may do so to a local animal shelter. Esther and her husband, Buck, will be laid to rest together at a later date at Houston National Cemetery.