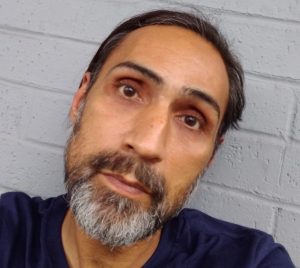 Eric Eugene Garcia(47) of Texas City passed away on Monday, March 13, 2023 in Texas City.  He was born on January 26, 1976 in Texas City to Frances and Gene Garcia.
Eric was a lifelong resident of Texas City and was a member of the Church of the Nazarene.   Those who knew Eric knew him to be strong willed and independent, he was always going against the grain.  He will be dearly missed.
He is preceded in death by his mother.  Eric is survived by his father Gene Garcia, grandmother Molly Garcia, daughter Berlin Isabella Garcia, sister Erica Lopez and many aunts, uncles, nieces and nephews.
A visitation will be held at James Crowder Funeral Home from 10-12 on Thursday, March 16, 2023.  A graveside service will follow at 2:00pm at Galveston Memorial Park Cemetery in Hitchcock.