Elton Dale (E.D.) McKinney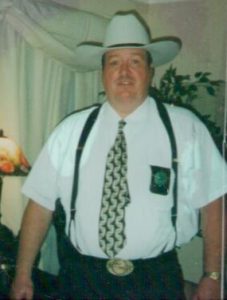 Elton Dale (E.D.) McKinney, 70, of Nassau Bay, Texas, went to be with the Lord on January 21st surrounded by his family. In 1964 he graduated from Allen Military Academy. Upon graduation he enrolled in Texas A&M and graduated with a B.A. in English Literature. In 1968 he attended Officer Candidate School for the Marine Corps and proudly served during the Vietnam War. He earned the rank of 1st Lieutenant and served until 1971, earning a bronze star with V for valor. After his time in the Marine Corps, he worked for the Houston Police Department. His last position was as a homicide detective. He later received a Doctor of Jurisprudence from South Texas College of Law and practiced civil and criminal law. Late in his life, E.D. discovered his calling as a Mental Health Deputy for the Galveston County Sheriff's Department. He retired from the department in 2013.
E.D. was born in Dallas, Texas on June 13th, 1946. He is preceded in death by his parents Elton Dale McKinney Sr. and Olga McKinney.
E.D. is survived by his wife of 47 wonderful years, Cynthia McKinney. He is also survived by their children Meredith Hess of Kentucky, Jeff (Marby) McKinney of Texas, and Mark (Jennifer) McKinney of Ohio. He is also survived by his 8 grandchildren: Erica, Sam, and Vivienne Hess of Kentucky; Meda, Collin, and Theron McKinney of Texas; Owen and Isadora McKinney of Ohio.
Visitation will be held from 5:00-8:00pm on Thursday, January 26th, 2017 at Crowder Funeral Home, 1645 East Main St., League City, Texas.  Funeral Service will be held at 10:00am on Friday, January 27th, 2017 at The Church of Jesus Christ of Latter-Day Saints, 4655 South Shore Blvd., League City, Texas  77573. Burial, with full military honors, will be at Houston National Cemetery for the family. Funeral arrangements are being handled by Crowder Funeral Home in League City.
In lieu of flowers memorial donations may be given to Houston Area Parkinson Society or a charity of your choice. The family of E.D. McKinney wishes to thank Elysian Hospice for their loving care, the South Shore Ward of the Church of Jesus Christ of Latter Day Saints for their continued support, and all others that have given their loving support and prayers throughout E.D.'s illness.