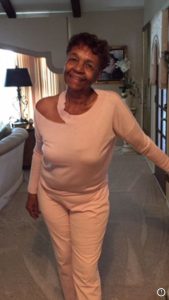 Ella Mae "Sweets" Bailey, 89, a 45-year resident of Friendswood, TX, passed away April 11, 2023 in Friendswood, TX. She was born on October 28, 1933 in Newport News, VA. Ella was a devoted homemaker and school bus driver for Friendswood ISD and attended New Covenant Christian Church in Houston, TX. She was a member of Bay Oaks Country Club "B.O.O.B.S" along with her husband Arcelious Bailey, Sr.
She reunites with her loving husband of 62 years, Arcelious Bailey, Sr.; parents Willie W. and Blanche L. Wilson; sister, Pauline Jackson; brothers: Roy L. Wilson, and Walter Wilson.
Ella enjoyed gardening and preparing wonderful meals for family gatherings and the holidays. The Bailey home was always loving and welcoming for family and friends. Ella loved to vacation with her family.
Ella leaves to cherish her memory, her sons, Arcelious Bailey, Jr. and his wife Mae Kit Dao, Cornelius Bailey and his wife Sandra, Michael C. Bailey and his former wife Sonja; daughters, Brenda Teresa Bailey and her former husband John, and Pamela Leigh Bailey; grandchildren: Carleigh L. Bailey, Cornelius "Neil" Bailey, Jr. and his wife Amy, Leah Joyce Die and her husband James, Arcelious Bailey III and his wife Kristen, Lauren Bailey Short, Kendall Leigh Short; great grandchildren: Khyston Xavier Bailey, Kaiton Arcelious Bailey, Cornelius "Cory" Bailey III, Audrey Joy Bailey, Olivia Die, Ella Die.
A funeral service will be held on Tuesday, April 25, 2023 at 11:00 a.m. at O.H. Smith & Son Funeral Home, 3009 Chestnut Ave Newport News, VA 23607. Burial to follow.