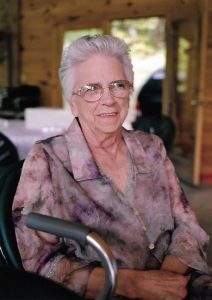 Ella Mae Simoneaux Hays
Our sweet mom, sister, mama-in-law, and Granny Hays went to Heaven on October 5, 2016. She was born October 17, 1922 in Franklin, Louisiana, and she married Ray Anthony Hays in 1942. They moved to Dickinson, Texas in 1951 where she spent her remaining 65 years raising her children, sitting in her "assigned" seat at Shrine of the True Cross, making Christmas stockings and quilts for her grandchildren and great-grandchildren and all lucky enough to marry into the family. She spent her days quilting with her friends at Shrine of the True Cross Quilters and altering band uniforms for Dickinson High School.  Her grandkids were her life and entertained her with their New Years' Eve pot-and-pan bands and went crabbing with her on the Texas City Dike. She even traveled to Italy and witnessed Pope Paul VI bless one of her grandchildren as he was entering St. Peter's..
In 1968, she lost her husband and best friend, Ray, and is now reunited with him at last. She is also preceded in death by her parents, Abel and Stella Simoneaux, sister, Mildred LaJaunie, and her grandson, Jay William Duerer. She is survived by her brother, Stanley Simoneaux (Houma, LA) and sister, Belle Simoneaux (Morgan City, LA); her daughters, Linda Theriot "Gayle" (Pasadena, TX), Kay Harrigan "Mike" (Dickinson, TX), and Judy Duerer "Wayne" (Cypress, TX); grandchildren Kevin Theriot, Mickey Harrigan, Bill Theriot, Anthony Theriot, Jeff Harrigan, Wayne Duerer Jr., Ray Duerer and Tina Theriot along with numerous great and great-great grandchildren.
Visitation in her honor will be held Sunday, October 9, 2016 at Crowder Funeral Home in Dickinson from 5 to 8pm. The Rosary will begin at 7pm. Funeral Services will be Monday, October 10th at Crowder Funeral Home at 10am, followed by the interment at Mt. Olivet Catholic Cemetery.
In lieu of flowers, the family asks you to consider a donation to Alzheimer's Association. The funeral home has envelopes available for that purpose.