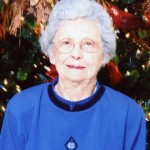 Elizabeth Thomas Hamm, 88, of Santa Fe, TX, passed away peacefully on Friday, May 16, 2014 at Harbourview Care Center surrounded by her daughters. Elizabeth was born in Galveston, TX on December 28, 1925 to John and Cora Monych. She was preceded in death by her parents; husbands, James Vernon Thomas and Joseph Walter Hamm: sister, Doris Killough; son-in-laws, Donnie Halstead, Sr. and Joe Reynolds, Sr.
She is survived by her daughters, Judy Thomas Lacy of League City, TX, Nancy Thomas Halstead of Santa Fe, TX and Susan Thomas Kemp (Robert) of Santa Fe, TX; her grandchildren Jodi Reynolds Pavey (Eric), Joe Reynolds, Jr. (Aimee), Donnie Halstead, Jr., John Halstead (Sandy) and Jason Kemp (Julie); great grandchildren Kobe Reynolds, Seth Reynolds, Oscar Reynolds, Kelby Pavey, Tripp Halstead, and Ian and Skylar Kemp; brothers Charles Monych and J.W. "Bubba" Monych.
Graveside Services will be 10:00 am, Monday, May 19, 2014 at Forest Park East Cemetery, Webster, TX
The family would like to say a special thank you to the staffs of Harbourview Care Center and Hospice Compassus.