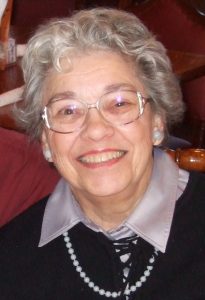 Elizabeth Marie Barcio (Liz, Mom, Aunt Liz, Grammie), 79, passed away on Sunday, October 18th, 2020 in Pearland, TX. Her beautiful, smiling face decided to "rise and shine and greet the world" as a second-generation Sicilian on November 21st, 1940 in Rochester, MN at the Mayo Clinic to Joseph Mingari and Sally Galati.  Liz is survived by: her husband, Joe, whom she affectionately called "Joe Honey" throughout their 55 years of marriage; her children and their wonderful spouses Liz, Chris, Joey, Alisha, Bernie, Michelle, and Mary; grandchildren, Regina, Anthony, Xavier, Aaron, Isaac, Michael, and Jacob; and numerous family members and friends.
She earned a Bachelor's degree in Elementary Education with a minor in Psychology from the University of Wisconsin at Milwaukee and spent many years as an amazing Kindergarten Teacher at various elementary schools in Wisconsin and Minnesota before ultimately retiring from the snow and cold and migrating to Friendswood, TX where she spent over 20 years enjoying the sun and spoiling her grandchildren.
Liz had a passion for music and singing and loved to participate in church choirs.  She had a way of putting smiles on strangers' faces, and left footprints of happiness wherever she went.
A memorial will be held on Thursday, October 22nd at 10:00am Crowder Funeral Home, 111 E Medical Center Blvd, Webster, TX 77598. As an active supporter of St. Vincent DePaul while she was growing up, those wishing to make a memorial donation in Elizabeth Barcio's memory may do so to St. Vincent DePaul Milwaukee at www.svdpmilw.org/donate.aspx