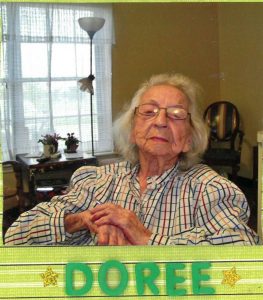 Elizabeth Abraham Doree passed away on March 25, 2021 at Gulf Health Care in Galveston at the age of 107. She was born in Elton, Louisiana on July 9, 1913 and lived between Lake Charles and Galveston until 1922 when her family settled in Galveston.
She completed her education from Sacred Heart Academy in 1930 and entered the business world through Draughan's Business College, where she was a partner and later owner of a small shop until 1945.  She worked in Houston but returned to Galveston to the Rosenberg Library for several years and finally ended up at UTMB where she retired in the late 60's.  In 1971 she and her husband Frank moved to La Marque to their final home where she enjoyed varied interests including the Wednesday Club, two Garden Clubs, volunteering and 25 years with the Tuesday Club.
Elizabeth is preceded in death by her husband, Frank in 1978: parents, Joseph J. and Frances Carr Abraham; her brothers: Joe Abraham (wife June) and Sam Abraham, son-in-law James Coffman and her grandnephew Mark Henson.  She is survived by a host of extended family.
At her request a service will not be held. Cremation was handled by the James Crowder Funeral Home in La Marque and her ashes will be placed beside her husband's in Galveston Memorial Park Cemetery in Hitchcock, Texas.