Elise Samuelson Roach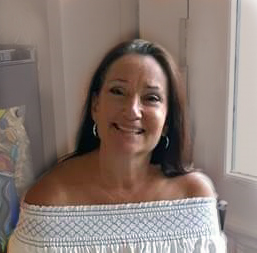 August 25, 1963 – July 15, 2019
Highland Park, Illinois – Galveston, Texas
Elise Samuelson Roach, 55, died July 15, 2019, in Galveston, Texas.
A memorial service is scheduled for 11 am on Saturday, July 20, 2019 at Faith Lutheran Church in Dickinson, Texas.
Elise Irene Samuelson was born August 25, 1963, in Highland Park, Illinois to Gene Howard Samuelson and Joan Irene Glidewell Samuelson. Her father was a Lutheran Minister and Neurosurgeon from Chicago, Illinois. Her mother, an operator and elder-hostile aide from Kokomo, Indiana.  They settled in Galveston in 1969.
Elise had a loving and creative spirit that could not be contained. She graduated from Ball High School in 1982, where she was a Colonel on the Tornettes dance team. Following high school, Elise attended college at the University of Texas, pursuing a Bachelor of Fine Arts in Dance. She spent a year in Paris furthering her dance training, and finished her education at Kent State achieving a degree in Dance Therapy. While living in Ohio, Elise became the mother of her son and greatest joy, Brian Matthew Adams. Elise enjoyed working on the farm and riding her horses.  Later, she returned to Texas and settled in Dickinson in 2004. There she reconnected with and married her best friend, Ernest Glenn Roach.
Her passions included art, dance, and singing. A natural performer, she performed in college and local theatres and was a member of a band. She shared her creative gifts with others starting her own dance school, teaching art to elementary school students at San Leon Elementary School and through her own art camps, as well as hosting "Paint and Wine" nights. Elise's overflowing light and laughter will be missed by the numerous people she touched.
Elise is preceded in death by: her parents, Gene Howard Samuelson and Joan Irene Samuelson; and father-in-law Mr. J.D. Roach. Elise is survived by: her husband, Mr. Ernie Roach; son, Mr. Brian Adams of Pittsburgh, PA; two step-sons Mr. Dylan Roach of Pearland, TX and Mr. James Adams Jr. and fiancé Ms. Lisa Cook of Lisbon, OH; two step-daughters Ms. Diane Adams and fiancé Mr. Eric Gilcher of Pittsburgh, PA and Mrs. Brittany and Mr. Chad Board of Calcutta, OH. Three brothers and their families, Dr. Bradley and Mrs. Liliana Samuelson of Wichita Falls, TX, Dr. Todd E. and Mrs. Dede Samuelson of Fort Worth, TX; Dr. Christian and Mrs. Taylor Samuelson of San Antonio, TX; three sisters and their families, Dr. Julie and Mr. Tony Purser of Dickinson, TX, Dr. Jeanne and Mr. Guy Nelson of Clear Lake, TX, and Dr. Mical and Dr. Lucas Duvall of Magnolia, TX; her mother-in-law, Mrs. Karen Roach of Dickinson, TX; brother-in-law Mr. John Roach of Dickinson, TX; grandchildren, Rowan and Waylon; step-grandchildren, Chad, Scott, Austin, James III, Dakota, Karsyn Elise, and Cagney; and 1 step-great-grandchild, Gabriel.
In lieu of flowers, the family has requested that donations be made to the American Diabetes Association.