Elias Demetrios Mourtakos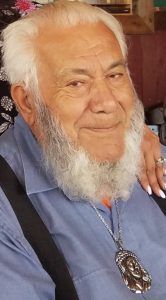 Elias Demetrios Mourtakos, 90 years old, passed away peacefully Tuesday November 16, 2021 in Pasadena, Texas after a two-week hospital stay.  Elias was born on October 15, 1931 in Panitsa, Greece to Demetrios and Marika (Tsanakos) Mourtakos.  In 1947, Elias immigrated to the United States from Greece with his parents and sisters where they settled in Pittsburgh, Pennsylvania.  In 1952, Elias enlisted in the US Army and was honorably discharged in 1955.  In 1968, while visiting Montreal, Quebec, Canada, Elias met Evangelia Riga and they were married on August 25, 1968.  In 1969 they started a family with the birth of their son, Demetrios, and in 1973 with the birth of their second son, Efthimios, who sadly due to illness passed away three months later.  In 1978, seeking a better opportunity, they decided to move to Houston, Texas, where within a year they opened a restaurant and settled in Pasadena, Texas.  In 1988 they embarked on a new path in the resale flea market business.  Elias loved his flea market resale business, and was there for over 30 years until he could no longer physically continue doing so.  In 2001, at the invitation of their daughter-in-law, Elias and his wife moved in with her and their son.  For 20 years, Elias was able to have the joy of seeing his two grandsons every day whom he loved with all his heart.
Elias is survived by his loving wife of 53 years, Evangelia (Riga) Mourtakos; son and wife, Demetrios and Sylvia (Torres) Mourtakos; two grandsons, Elias and Mario; sisters, Kay Balouris & family and Alice Kapnisis & family; and brother Tom Mourtacos and family.
A visitation will be held on Monday November 22 at 5:30 PM followed by at Trisagion prayer at 6:30 PM at Crowder Funeral Home, 111 E. Medical Center Blvd, Webster, Texas 77598.
The funeral service will be held on Tuesday November 23 at 11:30 AM at Saint John the Theologian Greek Orthodox Church, 202 North Walnut, Webster, Texas 77598.  Following the funeral service, burial at Houston National Cemetery.
In lieu of flowers, donations may be made in memory of Elias Mourtakos to the Saint John the Theologian Greek Orthodox Church Capital Development Fund.