Eleanor "Ellie" E. Childs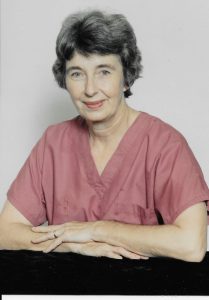 Eleanor "Ellie" E. Childs, longtime Galveston County and Dickinson resident, passed away on February 20, 2023.  Ellie lived a life defined by her caring and helping others, as a nurse, wife, mother, and community volunteer.
Born in a log cabin in 1932 on her family's apple orchard farm in Ohio, Ellie grew and sold strawberries on her own part of the farm to earn money for her dream of becoming a nurse.  After graduating from Anna High School in 1950, she enrolled at The Christ Hospital School of Nursing in Cincinnati, Ohio and graduated as a registered nurse in 1953.  Working as a pediatric nurse at John Sealy Hospital in Galveston, she fell in love with Texas and a Texan.
While taking flying lessons in Galveston, Ellie met her future husband, Leo F. Childs; the couple married in 1957 and moved to their home on Dickinson Bayou.  Ellie paused her nursing career as the couple raised five children and fostered medical-needs children for Galveston County.  While raising her family, Ellie maintained her nursing skills by volunteering at Shriners Hospitals for Children in Galveston.
Ellie returned to a full-time nursing career and worked at Shriners Burns Hospital for more than 20 years as a critical- and intensive-care pediatrics burns nurse, earning the Shriners' Nursing Humanitarian Award in 1994.  After retirement, Ellie remained active in the Houston-Galveston medical community, volunteering with Medical Bridges to recycle medical equipment for supply to medically under-served individuals and communities worldwide.  She opened her home to many children with medical needs as well as to international medical professionals from burns clinics in under-served communities.
Ellie was also an active community service volunteer in the area for many years.  While serving with the Friends of Dickinson Public Library, she provided books for US prisons and for libraries in Nicaragua and India.  She helped to establish the Fort San Jacinto Historic Point at the end of the Galveston Seawall. Working with Scenic Galveston, she helped to preserve the John O'Quinn Estuary along I-45 and other properties in Galveston.  Ellie tutored students at Hughes Road Elementary School; served on the Galveston County Public Health Board; taught life-skills courses for the Galveston County Alcohol and Drug Abuse House; and volunteered at the Galveston Seafarers Center and the Galveston Garden Club. She was active for many years at Emerson Unitarian Universalist Church and Bay Area Unitarian Universalist Church (BAUUC).  She worked with the BAUUC community service and social justice groups and provided homegrown altar flowers. Ellie received much recognition for her community service, including Galveston's annual Rabbi Henry Cohen Humanitarian Award in 2002, and the Community Service Award from the Sam Houston chapter of the Daughters of the American Revolution.
Ellie is survived by five children, numerous grandchildren and great-grandchildren, and a worldwide community of people whose lives she helped improve.  Her family requests that, in lieu of flowers, donations be made to Heifer International, FINCA, or Medical Bridges.  A memorial service honoring her life will be held later at a time to be determined. Anyone desiring to make comments at the memorial service should contact the family.