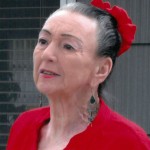 Elda I. (Ellie) Meritt of La Marque, Texas went to be with our Lord on Saturday, August 16, 2014. She was born November 27, 1933 in Carthage, N.C.
She is preceded in death by her parents, sister, Mrs. C.B. Snipes and son, Kelly Congor.
Left to cherish her memory are her son, Gary Congor and daughter, KayCee Chumley; grandchildren Kellen Chumley, Asya Congor, Harlen Bryant, Harmony Agapetus (Herb) and great grandson Izzy Agapetus.
Visitation will be at 5:30 P.M. on Wednesday, August 20, 2014 at the James Crowder Funeral Home. Services will follow at 6:00pm Wednesday, August 20, 2014 at the funeral home.