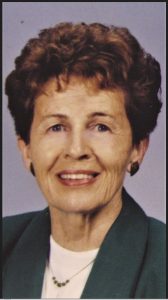 Eileen Tragni passed away peacefully of dementia and a broken heart on November 17, 2022. She was born Eileen Hickey on September 19, 1929, to Irish immigrants Martin Hickey and Ellen Carey Hickey in Mineola, New York. She married Frank Tragni, the love of her life, on February 14, 1951, and they remained married for sixty-five years until his passing on March 17, 2016. They traveled the world together, both through the military and in civilian life. She had been a resident of Houston, Texas, since 1968.
Eileen was a loving and supporting wife to her husband, a caring and nurturing mother to her children, and a good friend who could be counted on by many.
Eileen worked for years as a secretary at St. Paul the Apostle Catholic Church in Nassau Bay, Tx, served in the Ladies Auxiliary there and at St. Clare of Assisi Catholic Church, and could often be found supporting and assisting in other volunteer services within the Church.
Eileen enjoyed sewing and was an avid quilter. She also enjoyed cooking, and baking and sometimes entered baking contests. She loved finding bargains at garage sales and resale shops. She thrived on gathering with family and friends to visit and laugh.
Eileen Tragni was preceded in death by her husband, Frank; her parents, Martin Hickey and Ellen Hickey; her brothers, George Hickey and Martin (Buzzy) Hickey; and her sisters, Mary Hickey Yodice and Kathleen Hickey. Left to cherish her memory are her sister, Nancy Hickey Mongan; her children, Frank Tragni (Jula), Eileen Christine Sprague, Martin Tragni (Frida), Dan Tragni (Laurie), and Ande Bloom (Tom); grandchildren, William Tragni, Charlotte (Charli) Tragni, April Royall (Eric), Heather Matter, Ryan Sprague (Jessica), Jack Tragni, Lauren Brock (Jeff), Amanda Kemper (Paul), Robert Tragni (Kristen), Zachary Tragni (Devin), Paul Bloom (Emily), and Melica Stinnett (Graham); great-grandchildren, Connor Huffines, Hudson Royall, Hera Royall, Logan Kemper, Elliot Brock, Clare Tragni, Grayson Brock, Thomas Tragni, Victoria Sprague, Beatrice Sprague, and Ruthie Stinnett, as well as nieces, nephews, other extended family and friends.
Services to celebrate Eileen's life include a Visitation (9:30am), Rosary (10am), and Funeral Mass (10:30am) on November 22, 2022, at St. Clare of Assisi Catholic Church, 3131 El Dorado Blvd. Houston, TX 77059. The family requests that in lieu of flowers a donation in the name of Eileen Tragni be made to Christians In Action at St. Clare of Assisi Church.