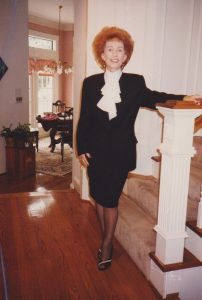 EILEEN MARY SHADECK
31 July 1931 – 7 September 2022
Eileen Mary Shadeck is now in the presence of the Lord Jesus.  Eileen loves the Lord with the faith of a child of God.  She loves next her family and is beloved by them.  She was known for the unselfish and unfailing love, loyalty and support she gave her husband, Fr. Clay Shadeck.  Her family remember the unlimited love she gave to them.  All who knew her remember her cheerful personality, open heart, and lack of guile.  And they cannot but remember how they enjoyed the results of her cooking skills.  All will miss her hugs and kisses, signs of her sweet, generous and loving spirit.
Eileen was quintessentially English.  She was born and raised in Hemel Hempstead, a small, quaint town just north of London, England.  Her strong English accent never diminished, even after more than seventy years in "the States."  Growing up during WWII, Eileen could be found at school, which during a bombing raid would become a Quonset hut dimly lit by a string of low wattage bulbs.  At other times, she would be at church services, Bible studies, and classes, although she was quite a tomboy and could be a bit of a handful.
Once in America, Eileen had a number of near-miss opportunities.  Doing well in the reading audition for the lead in a city production of "My Fair Lady," she was asked to return for the singing audition.  Not realizing that the producers were looking for an authentic British accent, a sparkling personality, and a voice that could carry effortlessly to the back of the theater, all of which she possessed, she assumed she couldn't compete with the trained voices she had heard, and she left before her scheduled audition.  Again, long before TV chefs were all the rage, Eileen was invited to put on a cooking show on a local public station.  With her personality, it would doubtless have been a big hit.  She turned it down because she didn't realize that various stages of preparation were done in advance.  She thought that all the cooking was done live, and she was afraid that one of the dishes wouldn't come out right!
Eileen met her soul mate, Clay, at an aerospace company where he was working during summer break from University, and where she was the head of the Executive Dining Room.  They met in the company bowling league.  Clay was a good bowler; Eileen threw as many gutter balls as Clay threw strikes.  He decided to help her improve, and she was an excellent pupil.  Not many years later, Clay noticed that many more of their trophies had top figures with skirts than with slacks.  Eileen and Clay were married in 1970, and she followed him to Texas where he was beginning a career in aerospace.
In 1980, Eileen and Clay opened "Eileen's English Tea Room."  Her charming accent and exuberant personality made having lunch at the English Tea Room an experience to be remembered.  She always made everyone feel welcome… even part of her family.  The food was delicious, homemade and baked on the premises from her family recipes.  Although they sold the restaurant after three years, it remained in operation for over 32 years.
In 1998, Clay was ordained as an Anglo-Catholic priest.  In 2002, God used the Shadecks to plant the parish of St. Paul's.  With the love and support of Eileen, Fr. Clay grew the parish by 15-fold by 2013 when it moved into a $2 million plus building which became free and clear the following year.  The growth of the parish was due in no small measure to Eileen's indefatigable support as Altar Guild Directress, flower arranger, and supplier of wonderful baked goods for the English High Teas, Bible classes, ministry meetings, and the Open House at the Rectory.  She was always moving.  A parishioner once described her as "a butterfly on steroids."  She was the perfect priest's wife.
Eileen is survived by her husband, Fr. Clay; her children Lorraine and husband, Terry; Paul and wife, Cheryl; Rick and wife, Patti; Harlan and wife, Kim; and their families including nine grandchildren and twenty-one great-grandchildren.  Eileen is now with her son Peter, her parents Charles and Gladys; her sister and brother-in-law, Pat and George; and her brother Fred; all who preceded her in death.
A Requiem Mass for Eileen will be celebrated 1 October 2022, at 11:00AM, at St. Paul's Anglican Church, 11456 Space Center Blvd., Houston, TX 77059.  The Celebrant/Officiant will be Fr. Stephen Stults. A reception will follow the Mass.