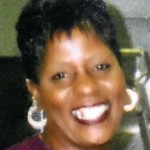 Eddie Fay Robinson, 63, originally of Galveston, TX passed away on Saturday, January 25, 2014. She is preceded in death by her parents Maude Alliniece and Edgar Robinson. Fay is survived by her children; son, De'Quincy Aswond Melancon; and daughter, Kenyalla Sherre Melancon; as well as her six grandchildren; granddaughters: Symphony Sherre Taylor, Jo`Shia Christina Taylor, Ke`Aira Aliegh Melancon; and grandsons: O'Shea D'Shawn Melancon, Daveon Faydrick Melancon, and Kiadre Fayzon Melancon.
Eddie Fay was named after her father Edgar and preferred to be called Fay. She graduated from Central High School in 1969 and after years of dating her high school sweetheart, Fay married Terry Melancon in 1970 and they traveled the world. Together they had two beautiful children and later in life divorced but remained friends. Fay worked for the United States Government for over 30 years retiring from the Michael E. Debakey V.A. hospital in Houston with numerous outstanding achievement awards and ranking in at a GS—05 Step 10. Fay was a remarkable woman, a hard worker, loving mother, and outstanding grandmother.
A memorial service will be held for Fay on Sunday, February 9, 2014 at 3:00pm at the James Crowder Funeral Home in La Marque, TX. Pastor Vernon Baines will be officiating.