Edd Lee McClanahan, 91
 Edd was born in Palisade, Colorad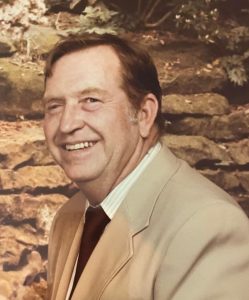 o on May 2ND, 1931 to Russ Patrick McClanahan and Lula Mable Dick. After receiving his education, Edd joined the United States Marine Corps. He completed his basic training in California and was stationed in the Panama Canal. In 1950, he was medically retired from the United States Marine Corps, after losing his eye while on duty. Shortly after returning home, Edd met the love of his life, Elizabeth Keyes, at a skating rink. He married Elizabeth on August 17th, 1951, at the age of 20. They were happily married for 71 incredible years until he passed on September 18th, 2022.
Even after his injury, Edd was still a talented electrician, and was employed as a contractor at military bases. They traveled the United States for his work until they settled in Texas. Elizabeth and Edd were blessed with five children, Leonard Ray McClanahan, Brenda Kay Byrd, Dennis Russ McClanahan, Larry Joe McClanahan, and Michael Allen McClanahan. Edd was a hardworking and loving father, grandfather "Pawpaw", son, brother, and uncle "Eddie".
He is preceded in death by his beloved wife, Elizabeth Ann McClanahan, only nine days after her death. His second son, Dennis Russ McClanahan (Rusty). His Father, Russ McClanahan; and Mother, Lula Dick. His brothers Gale McClanahan; William McClanahan; Lynn McClanahan; and sister Shelly Harris. Also his son-in-law, Terry Michael Byrd. He has been welcomed by the love of many family and friends in Heaven.
He is survived by his children: Leonard McClanahan and wife Kathy; Brenda Byrd; Larry McClanahan and wife Angie, and Michael McClanahan and wife Elizabeth. His nine Grandchildren: Natasha Emerson and husband Rene; Amanda Byrd Peri; Shawn Byrd and wife Jennifer;  Melissa Chadwick and husband Michael; Brittany Dove and husband Dewayne; Patricia (Trisha) Matute; Thomas McClanahan and wife Hannah; Edd Lee McClanahan, and Tucker McClanahan. His 18 great-grandchildren, and 2 great-great grandchildren. And many nieces and nephews.
Friends and family are invited to celebrate Edd's life on September 24th, 2022, 1:00 PM at Crowder Funeral Home; 1645 E. Main, League City, TX 77573.