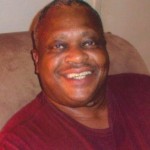 Earnest Hulen James, Jr., 62, of Friendswood, Texas, departed this earthly life on Saturday, January 11, 2014 in Webster, Texas. He was surrounded by family and close friends.
Earnest was born February 1, 1951 in Galveston, Texas, to Earnest Sr. and Mable James and was extremely proud to be B.O.I (Born On the Island). He graduated from Ball High School in 1969 and continued his education at Southwestern Business College. Earnest was employed and retired from Celanese Chemical with over 20 years of service. He lived in Friendswood for over 30 years and attended Faith United Methodist Church in Dickinson, Texas and was a former member of Wesley Tabernacle United Methodist Church in Galveston, Texas.
Earnest was indeed a special and exceptional man. He would give you the shirt off his back if you needed it. His extreme love for cars and car detailing kept a smile on his face. If you ever came in contact with Earnest, you knew you had a friend for life. He never met a person that he did not win over instantly. Whether it was a phone call to check on you or a surprise visit, when you heard from him or saw him you knew you held a special place in his heart. His sense of humor was very unique and if you were not paying attention you would definitely miss the joke.
Earnest was preceded in death by his father Earnest H. James, Sr. and his sister Everlola James Bell.
Earnest is survived by his loving wife of 41 years, Harriett Lynn James; sons, Edwin Keith James and his wife Sophia, Devin McNeil James and his wife Brittany; mother, Mable James ; sister, Alberta Brooks; niece, Felicia Brooks; and grandchildren Kendall Combs and Gia Lynn James. In addition other survivors are aunts, uncles, nieces, nephews, cousins and other family members and friends.
A memorial service will be held at 11:00 a.m. Saturday, January 18, 2014 at Mt. Carmel Missionary Baptist Church, 2920 Highway 3, Dickinson, TX 77539