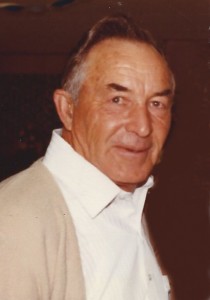 Earl Wayne Sparks, 95 of La Marque passed away on Wednesday, January 13, 2016 in Texas City. He was born February 11, 1920 in Jonesboro, Hamilton County, Texas to Virgil L. and Maude E. Sparks. Wayne was a long time resident of La Marque, graduating from high school in 1938 and working at Union Carbide in Texas City where he retired in 1980 as a shift supervisor in Operations. He was a veteran of WWII, serving in the 997th field artillery where he saw action during the Normandy invasion and the Battle of the Bulge in the Ardennes and was a founding member of VFW Post 8248 in La Marque.
Wayne was married in 1943 to Maurine Clayton and they enjoyed 60 years together raising two sons, Wayne Jr. and Michael. Wayne was a volunteer in all youth sports helping to establish the La Marque Little League and could be found supporting all La Marque football, basketball and track events. He enjoyed playing golf and was involved in city government serving on the La Marque planning commission.
Wayne was preceded in death by his parents and his wife Maurine Sparks. He is survived by his sons and daughters in law: Wayne and Linda Sparks and Michael and Becky Sparks; sisters in law; Marguerita Clayton and Charlotte Clayton; three grandchildren; Adrienne Sparks Wideman, Scott Sparks and Lee Sparks; four great grandchildren; Morgan Sparks, Harper Sparks, Ansley Wideman and Pearson Wideman.
A special thanks to his caregiver Emma Davis and to his friends who have provided much appreciated help and support in his last years.
A visitation will be on Sunday, January 17, 2016 from 5:00pm-7:00 pm with a service at 7:00pm at the James Crowder Funeral Home in La Marque with Rev. Bobby Hocking officiating. Graveside service will be at 10:00 am on Monday, January 18, 2016 at Mt. Olivet Catholic Cemetery in Dickinson, Texas.