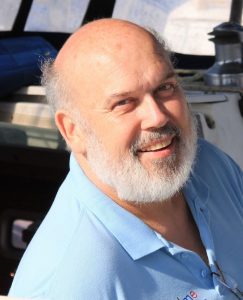 Earl Fitz Smith Jr. of Manvel, Texas passed away Wednesday, January 25, 2017 in Houston, Texas. He was 67 years old. Earl was born on September 9, 1949 in Pasadena, Texas to Earl Fitz Smith Sr. and Eunice Smith. Mr. Smith, formerly of Pasadena, Texas, had been a resident of Manvel, Texas for the last 16 years. He graduated from Pasadena High School in 1968. Mr. Smith later became a professor and developed the Banking and Finance Program at Houston Community College where he has worked for the last 35 years.
Earl's great passion was teaching banking and helping his students in their career paths. He loved making a difference in people's lives. He had a great love of literature, history and music. Earl also enjoyed traveling and studying different places and cultures. He loved riding his scooter, even when dubbed "scooter trash" by his son. Most of all, Earl loved God and his family. He was a lifelong member of the Church of Christ.
He is preceded in death by his parents and his daughter, Kimberly DeRidder. Mr. Smith is survived by his wife of 32 years, Donna K. Smith, daughter Brandy Mosk and husband Geoffrey, son Earl "Tre" Fitz Smith III and wife Melanie, brother-in-law Gary Siegworth, and 8 grandchildren: Skye Mosk, Hayley Mosk, Kendall Mosk, MyKayla DeRidder, Tyler Cline, Hannah Cline, Jacob Bay, and Ava Smith.
A visitation will be held at Crowder Funeral Home, 2422 Broadway, Pearland, Texas 77581, on Thursday, February 2, 2017 from 5pm to 8pm. A service will be held at the Pearland Church of Christ, 2217 N Grand Blvd., Pearland, Texas 77581, on Friday, February 3, 2017 at 10am with Keith Avaritt officiating.