Dr. Lillian Leta Lockhart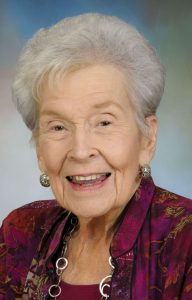 Dr. Lillian Leta Lockhart, 91, of La Marque, TX., passed away on Thursday, April 14, 2022 in League City. Lillian was born October 23, 1930, in Columbus, Texas to Paul Raymond and Lillie Liddie Hoffman. She received her BA from Rice University in 1951, her MA from the University of Texas Medical Branch, Galveston in 1954 and her MD from UTMB in 1957. Lillian was Professor Emeritus, Pediatrics and Genetics at UTMB.
She had an illustrious career for over 60 years, retiring finally at age 89. Though her medical accomplishments and accolades are too many to list, she was published in many medical journals, was a member and on the board of many Pediatric and Genetics organizations and received many honors as a faculty member at UTMB, the most recent honor being the Texas Pediatrics Society Charles Daeschner, Jr. MD Lifetime Achievement Award in 2016. She was a member of the First Evangelical Lutheran Church in Galveston. Her faith was very important to her, and she read the Bible every day. She was a member of the La Marque School Board for over 20 years as well as a past President.
Lillian was preceded in death by her parents, her husband Dr. Leroy Lockhart, her son, Dr. Lonn Bradley (Brad) Lockhart and one grandson, Robert Glen. Lillian is survived by her closest friend of 60 years, Patricia Harvill,  two daughters: Teri Lockhart Glen (Doug) and Shari Lockhart Campbell (Bryan); one daughter-in-law Kathy Jones Lockhart; four grandchildren: Amanda Lockhart Edwards (Rick), Kathleen Campbell Parker (Josh), Lauren Glen (Nick Roberto), and Lindsay Taylor Campbell; seven great grandchildren: Robert Parker, Savannah Parker, Dash Edwards, Romie Parker, Andi Edwards, Ayden Roberto, and Sophia Roberto.
A heartfelt thank you to Janice and Mike Smith for all the love and support they have provided Lillian over the years, as well as Jack and Karen Wilkins for always being on call whenever they were needed. We also cannot thank enough the wonderful caregivers who helped Lillian in recent years, many who have become close friends of the family.
A visitation will be held on Friday, May 6th, 2022 at James Crowder Funeral Home in La Marque from 5:00 pm to 7:00 pm. A memorial service will be at First Evangelical Lutheran Church at 2415 Winnie, Galveston, TX. on Saturday, May 7th at 10:00 am. Interment will follow at 3:00 p.m. Odd Fellows Rest Cemetery, 1518 Montezuma St. Columbus, TX. In lieu of flowers, please donate to a charity of your choice.