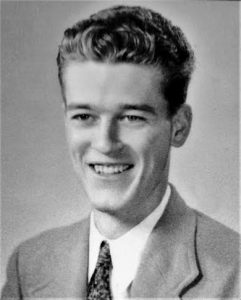 Douglas Wilson, age 95, passed away on May 14, 2019. He was born in New York City on May 1, 1924 to Frank Wesley Wilson and Mary Smith Wilson. He is survived by his beloved wife of 73 years, Pauline McGinnis Wilson, brother and his wife Bruce and Jean Wilson, daughters and their husbands Paula and William Stites and Patricia and Robert Barnum, grandchildren Robert and Taylor Barnum, Matthew Stites, and Christopher and Sarah Barnum, and great grandchildren David Barnum and Jackson Barnum.
Doug grew up in New Jersey and Brooklyn, and remembers games of stick ball, mumblety-peg and marbles. He began a life-long stamp collection and discovered a love for singing. His first paying job was as a boy soprano for Grace Episcopal Church in Brooklyn for fifty cents a week.
He attended New York University as an engineering student, but beginning his sophomore year enlisted in the Army Air Force as an aviation student. He became a pilot of the B-24 "Liberator" bomber and then a flight instructor.
During this time Doug met the love of his life, Polly. They became engaged after only a few weeks and saw each other whenever Doug could borrow a plane to do so. They married during wartime, on July 7, 1945.
After the war he earned a Master's degree from the University of Michigan and worked as a chemical engineer for the DuPont Company.
Doug and Polly traveled widely, but according to Doug the perfect vacation was camping and hiking, camera in hand, in the Rocky Mountains. Doug was an amateur geologist and could often be found with rock samples weighing down his backpack.
After retirement Doug and Polly were able to devote time to their shared interest in genealogy. Research became the focus of many of their trips and a skill they were happy to share with others.
Doug had a passion for service through his church, teaching Sunday school and taking leadership positions for many years. One of his most satisfying roles was leading the Relocation Committee that brought Seabrook United Methodist to its current location. His boyhood love of music continued in the church choir where he sang baritone and composed several original hymns.
A service of celebration for the life of Doug Wilson will be held Saturday, June 1, 2019 at 10:00 at Seabrook United Methodist Church, 3300 Lakeside Drive, Seabrook, TX 77586. In lieu of flowers, a memorial donation in Doug's name may be made to Seabrook United Methodist Church.