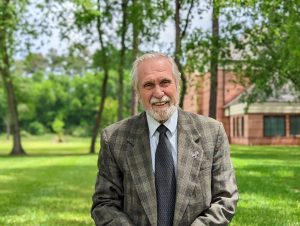 DOUGLAS SEATON LILLY
SEABROOK – Doug Lilly, 79, died unexpectedly July 18, 2022 at HCA Clear Lake.  He was born in 1942 to Seaton & Pearl Lilly in Abingdon, Virginia and graduated from Greendale High School.  Doug continued his studies at North Carolina State, graduating with undergraduate and masters degrees in Electrical Engineering.  Upon graduation he moved to Clear Lake and began his career with NASA as a pioneer in laser technology. Doug spent 4 decades working in space exploration and aerospace investing his energies with NASA, Space Industries, McDonnell Douglas and Boeing.
Doug was a Christian, a patriot, a father and a husband.  He enjoyed healthy discussions and debates about politics, ethics, and the U.S. Constitution. Happiest among friends and family, Doug was always willing to help his community.  Through the years he participated in the Clear Lake Chapters of The American Heart Association and served as President of The Lion's Club.   He was also active in his church and a proud member of the Bay Area Presbyterian Church congregation.
He enjoyed walking, reading and playing bridge.  Playing bridge and volunteering with the Clear Lake Bridge Club were his real joy in recent years. He was an active volunteer, leader of the mentor/mentee program and was currently serving as the President of the Clear Lake Bridge Club.  At this year's Lone Star Regional Tournament, Doug earned the prestigious distinction of Bronze Life Master and started immediately working towards Silver.  After an accomplished day of work or play, he could be seen listening to country music, watching the Astros and slowly sipping a Jack Daniels with coke.
Doug called Clear Lake home for more than 40 years and was incredibly proud to raise seven children.  He is survived by his sister and husband George & Doris Lilly Hearl and his seven children and spouses – Diana & Mike Leach, Michelle & Bryon Davis, T & Katarina Alford, Seth & Natasha Alford, Austin Lilly, Trenton Lilly and Grant & Megan Lilly. He is also survived by 10 grand-children and 4 great-grandchildren who will forever be changed by his love.
A celebration of life will be held Saturday, September 17th at 2pm at the Bay Area Presbyterian Church.