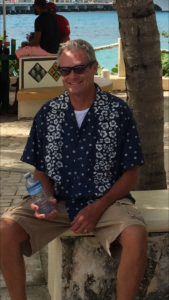 Douglas Carr Turner (aka – Dougie Fresh), 66 passed away on January 26, 2017. He was born on January 24, 1951 in Ohio to Lewis (Slick) & Doris (DoDo) Turner.
Doug graduated from Kansas State University with degrees in Business & Sociology.  He was a star swimmer in High School at Randolph AFB.
Doug was proceeded in death by his Parents, and His brother, Tommy Turner.
He is survived by his wife, Cindy Turner of 28 years, his 2 boys Mitchell & Grant Turner, sister Sue Nichols & brother in-law Bob Nichols, brother Mike Turner, brother Brad Turner & sister-in-law Ann Turner.  Mother in-law and father in-law Milton & Rose Kobza, brother in law & sister in law Dean & Lauren Kobza.  Numerous nephews & nieces.
Doug lived in Manvel with his family for 20 years and made many, many special friends that were near and dear to his heart.  He loved Blue Bell Ice cream, Texas Music & visiting the New Braunfels (Gruene Hall) area often.  He also loved being outside with his boys playing baseball & football, working in the yard and lots of honey-do's for Cindy.
Dougie loved his Kansas State WILDCAT Football team "GO CATS" – "PURPLE PRIDE" He was a lifetime committee member, for 29 years, with the Houston Livestock Show and Rodeo.
There will be a Celebration of Life held at Joe's Banquet Center, 1400 Hwy 6, Alvin, TX on Sunday, January 29, 2017  @ 3:00 pm.
You may donate to a charity of your choice in his name or a fund has been set up for the Turner boys.