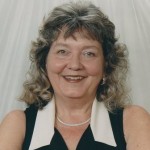 Dorothy Sherman of League City, Texas passed away on October 10, 2014. She was born on January 31, 1949 in Philadelphia, Pennsylvania, and is preceeded in death by her mother, Beatrice Miller, father Carlton Clark, Sr. and brother Carlton "Richie" Clark, Jr. She is survived by her sons, John Sherman and wife Susan and Michael Sherman and wife Mariha, sisters Carol Baoicchi and Ret Reynolds, brothers David Clark and Robert Clark and wife Ann, cousin Gina Bacon and many beloved nieces, nephews and friends.
Dorothy graduated from the Lee College nursing program and also received her Associates of Applied Science degree in Psychology and spent the next 30 years dedicating her life to serving others. She was also active volunteering much of her free time to many charitable organizations within the Galveston County community. She enjoyed time with family and friends, gardening, cooking and was a supporter of various local arts programs.
Service will be Tuesday, October 14, 2014, at 10:00 a.m. at Crowder Funeral Home, 851 Hwy 517, Dickinson, TX.
In lieu of flowers, donations may be made in memory of Laverna Dorothy Sherman to: MD Anderson Cancer Center, PO Box 4486, Houston, TX 77210-4486. For information/questions, please call 713.792.3450 or 800.525.5841, www.mdanderson.org/gifts. All contributions made in Dorothy's memory will go directly to thyroid cancer research.