Dorothy "Dottie" Lavern Connelly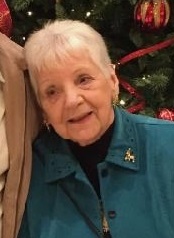 Dorothy "Dottie" Lavern Connelly, 93, a resident of Jefferson, TX passed away November 19, 2023 in Houston, TX. Dotty was born March 24, 1930 in Chicago, IL. She retired from Chevorn. She liked to fish, boating, and playing with her grandkids. Dotty loved making memories with family and friends and in her later years she made Christmas ornaments for everyone she loved. She was beloved by everyone that knew her and will be truly missed.
Dotty reunites with her husband of 25 years, Ralph Wallace; son, Allen Wayne Wallace; parents, George, and Rose Bartuska; and George Bartuska, Jr.
She leaves behind her daughter, Rosemary Shields; sons: George Raymond Bally, wife Debbie, and Larry Dean Wallace, Sr., wife Gwen; grandchildren: Larry, Jr. Wallace, wife Tiffany, Dwayne Wallace, Hank Wallace, wife Emily, Ralph Wallace, Trish Taylor, husband Trey, Nathan Bally, wife Venis, Victor Villarreal, Valerie Villarreal, and Vinson Villarreal; thirteen great grandchildren and one great great grandchild; sisters, Jean Doss; and brother, Tom Bartuska, wife Kathy.