Doris Mae "Granny" Colwell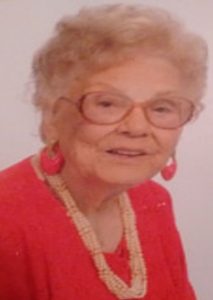 Doris "Granny" Colwell, passed away February 11, 2019 in Hitchcock at the age of 95. Doris was born on July 27,1923 to parents William Edgar Noey and Mindie Green Noey.
She is survived by daughter Betty Nallie, granddaughters Kim Barnes and Brenda Nallie-Lowe, great-grandchildren Roger Nallie, Jacqueline Nallie and husband Zack, Alexandria Barnes, Ashley Brown, John Paul Lowe, and Breanna Lowe; great-great-grandchildren, Gavin Brown, Lainey Lopez, Nevaeh Williams, Kylie Achord and Dominic Barnes.
Doris married Austin on March 15th, 1944.
She was preceded in death by husband Austin Colwell and son Rodger Colwell.
Visitation will be held on Friday, February 22, 2019, from 6 p.m.-8 p.m. at Crowder in Dickinson, Texas. A graveside service will be held at 1:00 p.m. Saturday, February 23, 2019, at Galveston Memorial Park in Hitchcock, Texas, with Buddy Harring officiating.
Reception to follow at Abundant Life Christian Center.
All are welcome to attend and celebrate Doris' life.